TSBA members assist the Aquatic Ecology Technicians from Oak Ridge National Laboratory. Conservation-minded club members volunteered to take the ORNL personnel fishing on Norris to catch Striped Bass for the purpose of testing for contaminants. ORNL researchers contacted TWRA for help in locating striped bass from Norris Reservoir with smaller body mass than those generally found in Melton Hill (and from locations free of PCB contaminants). During the collection period, striped bass on Norris are usually too deep to collect with electrofishing gear, and gill netting would produce undesired bycatch mortality. Another technique was needed. Ezell Cox, a member of the Tennessee Striped Bass Association (TSBA), was contacted. Almost immediately, Ezell rounded up a half-dozen conservation-minded club members who volunteered to take the ORNL personnel and some TWRA observers fishing on Norris. Because of stringent chain-of-custody and scientific collection requirements, ORNL employees accompanied each TSBA boat. The outing of the winter of 2012/2013 was the first in what has become an annual event.
ORNL. Day 2023 Another successful day fishing.
Fish on! We had a great day. Jan. 24th. 2022 with people from TWRA. and ORNL. all catching fish for testing.
Another successful day catching fish for contaminant testing Feb. 3rd. 2020. The people from ORNL. enjoyed the day out on the water.
ORNL. day 2016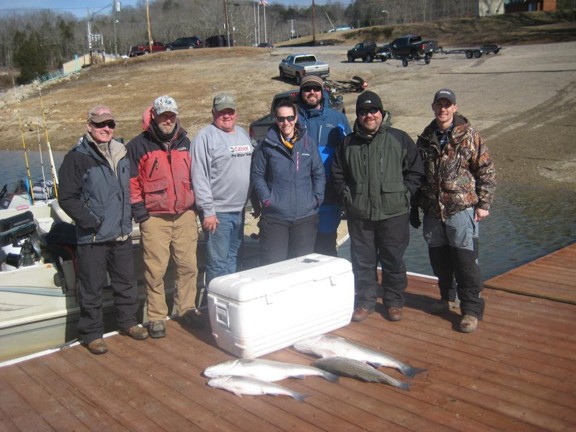 From left: TSBA members, Eric Rauch, Joe Asher, Ezell Cox. ORNL. research team: Nikki Jones, Michael Jones, Kenneth Lowe, Robert Jett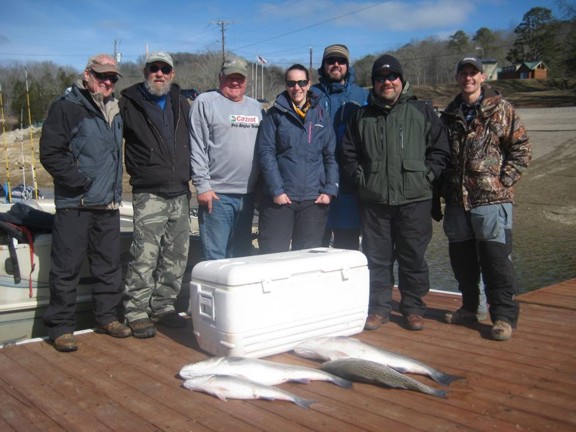 Steve Nichols and Joe swap spots. Nice fish!!