We are very fortunate in Tennessee to have some great Striper fishing. While it is fine to catch and keep fish (they do taste good) the best part of catching a big Striped Bass is to watch it swim away. TSBA promotes Catch, Photo, Release (CPR).
As long as the club remains financially stable, we will continue to make yearly donations. For 2017 we donated $500.00 each to the Children's Hospital, the Boy Scouts of America, and 4-H club. Our goal is to support the local organizations. The Board of Directors voted to make our 2018 donations of $500.00 each to the Boy Scouts of America and 4-H club.
Allen Franklin presenting the 4-h club with a check for $500.00 January 2018.
"I was honored this evening, as Chairman of the Board of Directors for the Tennessee Striped Bass Club, to present the Knox County 4-H Horse and Pony Club with our donation of $ 500.00. The 4-H Club members were thrilled to receive the donation which will benefit many young children in the club."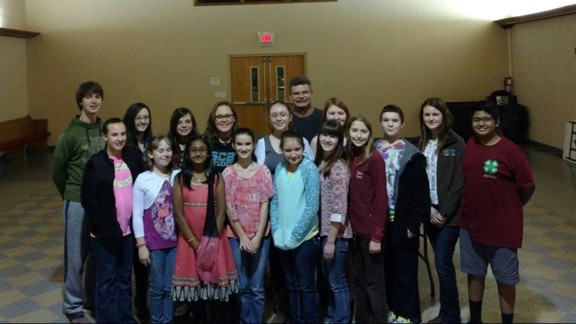 Allan Franklin with the 4-H club 2017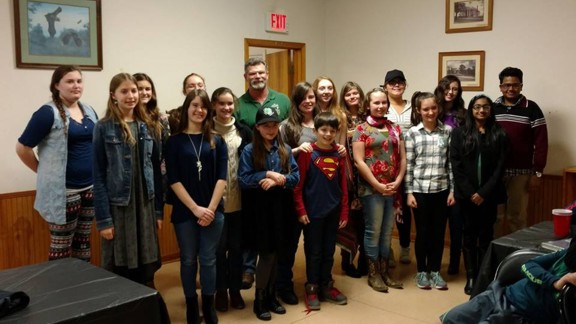 Member Benefits
You will help support striped bass fisheries and wildlife agencies.
You will receive a newsletter published 8 times a year.
You will be kept informed of new regulations & information that affect striper fishing.
You will develop a network of "striper friends."
You will learn new methods to improve your striped bass fishing effectiveness.
Members can call officers for fishing reports.
Monthly meetings and informative programs.
Access to all areas of the TSBA, Inc. web page.
How do I join TSBA, Inc.?
Simple! Either show up to our monthly meeting (see the Home page) or click to download a membership application and mail it, with a check, to the address near the bottom of the form.
Link to the TSBA, Inc. By-Laws
Tennessee Striped Bass Association, Inc.
P. O. Box 7303
Knoxville, TN. 37921
E-mail: tennstripedbass@gmail.com
Website: http://www.tnstripedbass.com/
Click on the link above for TSBA Officers, Staff and Directors who will gladly help you with information. Please fill free to contact our Officers and Staff anytime.
Began as a small local group know as the Norris Lake Striper Club in 1987. It later formed the TSBA in 1995. The Tennessee Striped Bass Association has currently hundreds of members and remains very strong after over 25 years.
---